Click on any Coach to learn more.
Founder and General Manager
Reducing Stress
Creating Game Plans
College Lists
Neurodiverse Students
Founder and General Manager
Kathleen Glynn-Sparrow has spent over 25 years in school leadership positions and counseling families about the college process. 
Kathleen works with her team of coaches throughout the process from start to finish.  She collaborates with her team who meet weekly to share their strategies so each family receives the full strategic support of our team with nearly 100 years of counseling experience! This collaboration also includes ensuring all students develop a balanced college list (Kathleen has visited about 250 campuses).  Kathleen and her team ensure that the game plan is tailored to your student's strengths to increase chances of success. Kathleen has established a professional rapport with a host of college representatives over the years and remains current by attending college admission events and webinars. 
"We were very pleased with the timely and comprehensive advice and guidance provided. The customized application suggestions and financial aid negotiation tips were particularly helpful. Highly, highly recommend!" 
-Mark Guberman
Review on Google is here 
Two highlights of Kathleen's career include a publication for which she received a grant and a presentation at a national conference. She is the co-author of Sex, Drugs, and the S.A.T., Getting out of High School and Getting in to College (available on Amazon.com), and presented at the National Association of Independent Schools Conference on "Stressed-out Students are the New Normal: How Educators Can Alleviate Anxiety."  Kathleen accepted invitations to serve on two advisory boards: Quinnipiac University and Widener University. 
Kathleen also has firsthand knowledge of the local high schools. She has worked with most public and private high schools in the DC/MD/VA area. Her daughter, Maddie graduated from Stone Ridge and most recently graduated from Duke University (Class of 2021). Her son Aidan graduated from The McLean School of Potomac and is attending the University of Miami as a sophomore. Her husband George is a technology consultant and manages all internal functions for The College Coaches as our COO. Her dog Stella doesn't do much. 
  Schedule a meeting with Kathleen.
B.A. English/French, Duke University
M.Ed. Teaching HS English, Emory University
Harvard Admissions Institute
Financial Aid
Creating Game Plans
Essay Coaching
International Schools
Becky Bowlby has thirty years of college admission and fifteen years of college counseling experience.
Becky loves to work with students and families about all things relating to college, from creating a college list, to brainstorming essays ideas, to strategies surrounding financial aid and especially exploration of international admission. Because of her extensive background in both admissions and counseling, Becky has formed a national and international network of colleagues from both sides of the desk. Her straightforward manner and sense of humor help to make students and families feel at ease.
"<My daughter> gets off her zooms with you and tells me how much she loves you. I'm so glad we had you to help us pull it all together (without her getting upset with me.)"  L.M.
Becky served in a variety of leadership roles in the Pennsylvania Association for College Admission Counseling (PACAC) including President, Conference Planning Chair 6 times, Treasurer, Chair of Admission Practices Committee, Chair of College Fairs Committee, Dean of the Summer Institute to name a few! Becky won the highest award given by PACAC, the Delwin K. Gustafson Award for Excellent Service to PACAC. Becky presents annually at the PACAC Conference and served as the mentor for the Conference Planning Chairs in 2016, 2017 and 2018. Becky created and launched the first Women's Empowerment Workshop on Zoom in 2021 and the first in-person two- day workshop was held prior to the PACAC Annual Conference in 2022. At the 2022 conference, Becky was awarded Emeritus Membership status for her service to the organization.
In addition, Becky has been very active in the National Association for College Admission Counseling (NACAC) serving in several leadership roles there as well. Becky was the Co-Director of the Admission Middle Management Institute, Co-Director of the Leadership Development Institute, and member of the Finance and Budget Committee. She was also the Chair of the Local Arrangements Committee for the annual conference held in Pittsburgh a few years ago. She frequently presents at the annual NACAC conferences. At the 2021 conference, Becky was awarded the Rising Star Award from NACAC for her participation as a panelist in the PACAC lunchtimes series on Diversity, Equity and Inclusion.
Becky lives in Phoenixville, Pennsylvania and is the mother of two daughters, Lauren and Marissa, who live nearby, as well as the Mimi of Wyatt, age 11 and Blake,2. She loves most sports but especially college basketball is a diehard Villanova fan! Go Cats!  Schedule a meeting with Becky. 
Dir. College Counseling, Lower Merion School District
College Counselor, Cheltenham High School
Director of Admission at Immaculata University
Senior Assoc. Dir. Admission, Drexel University, Thomas Jefferson University, and  Montgomery County (PA) Community College
B.A. Sociology and Religion, Wagner College
M.S. Higher Education Counseling, West Chester University
Secondary Certification in Counseling, West Chester University
Common Application
High School Apps
Creating Game Plans
Caroline Sanders Byers most recently served as a College Counselor at The McLean School of Maryland. She seamlessly worked with seniors to complete their application process and helped launch the juniors into the beginning of their process. At Mercersburg Academy, a boarding school in PA, Caroline spent time in both the admission and college counseling offices. As Associate Director of College Counseling, she worked with seniors and created a comprehensive program for 9th through 11th grade students before they formally entered the college process. The program encouraged younger students to be more proactive in their decision-making about opportunities in high school.
"I also wanted to let you know how wonderful Caroline was. Transferring, as you know, can be a very traumatic experience and Caroline was so knowledgeable about the Common App and how to manage the entire process. Elizabeth's transfer process went so smoothly and we credit that to Caroline. I would definitely recommend Caroline and The College Coaches."  B.A. (Google Review forthcoming)
Caroline also served as the Director of College Counseling at Connelly School of the Holy Child in Potomac, MD where she was able to visit over 25 colleges in a two-year period. Having first-hand experience in seeing so many colleges allowed her to be a better adviser to the girls of Holy Child. She also taught chemistry, earth science and conceptual physics at St. Andrew's Episcopal School in Potomac, MD. 
Caroline lives in Carlisle, PA, with her husband, two boys and one rescue pup.  In her spare time, she likes to tend to her garden, walk her dog while listening to podcasts and create delicious desserts in the kitchen with her kids.  
College Counselor, The McLean School
Assoc. Dir. College Counseling and Admissions, Mercersburg Academy (PA)
Director of College Counseling, Holy Child 
Science Teacher, St. Andrew's Episcopal School
B.A, Geology and French, Bucknell University
M. Ed., Administration, Planning and Social Policy Harvard University
Head Coach, Essay Writing
Essay Coaching
Supplemental Essays
Common Application

Writing
Head Coach, Essay Writing
Greg Schneider  was recently the Department Chair of the English and Literature Department at The McLean School of Maryland and now works as a Head Coach for our College Essay service.  
Some of Greg's favorite students' college admissions essays have been about ducks, hair, juvenile delinquency, party franks, and broken crockery. All were memorable, funny, and unique. And successful. Greg knows that crafting the perfect college admissions essay is about the process of distilling a student's ideas and presenting a cogent and compelling narrative about that student's abilities, accomplishments, ambitions, and aspirations. Greg enjoys shepherding students through the writing process and showing them that writing is the foundation of communication, a means of creative expression, and a powerful tool for success. 
"Greg, Thank you so much for your help and guidance today, looking forward to when we next meet! You were such an awesome help."  K.M.
Greg has worked for many years with upper school students in the humanities. He is also an executive function coach and a writing tutor. Greg works extensively with students guiding them in crafting their college admissions essays and has written a blog titled "Writing the Perfect College Admissions Essay" for The McLean School website. 
Greg has worked in education and the arts all of his life. He has written and published for art journals and newspapers on modern and contemporary art, film, theatre, and books, as well as interviewing and writing about internationally renowned artists, curators, and museum directors.  Schedule a meeting with Greg.
Department Chair, English and Literature, McLean School 
 Administrator and teacher, Cirque du Soleil
Director, actor, and stage manager for professional and community theatre
B.F.A. Theatre Arts, University of Montana
M.A. Art History, University of Oregon
M.S. Education, Nova Southeastern University. 
Head Coach, Career Direction
Inspiring Career Confidence
Aligning Strengths to Possibilities &
Goals to Plans
Head Coach, Career Direction
Sara Karlen Lacombe has 34 years of experience transforming individuals as they navigate the journey from where they are to where they want to be – from who they are to who they want to become. 
Sara has worked on five continents, including serving in senior human capital positions. Her responsibilities included aligning talent, strategy and culture to unleash the potential of individuals and empowering them to navigate their careers with confidence.   

Certifications
Professional Values, Strengths, and Story Survey (SVSS)
The Leadership Circle (TLC)
Myers-Briggs (MBTI)
"Having personally worked with her for the past two years, I can attest to her exceptional abilities. Her coaching and support have led to numerous breakthroughs in my professional journey, reshaping my approach and demeanor in ways that have yielded tangible results. I wholeheartedly recommend her." A.B.
"Well thank goodness you came my way. This and the cover letter are enlightening edits. Thank you!" – Client #1 with The College Coaches
Minding the Gap Coaching, Owner
Navigation Arts, Chief Culture Officer
FTI Consulting, Chief Human Capital Officer
Merrill Lynch, Human Capital & Talent
Lehman Brothers, Recruiting & Diversity
Citibank, International Recruiting
Georgetown University, Leadership Coaching Program
Harvard Business School, Strategy & Finance
Hobart William Smith College (B.A.)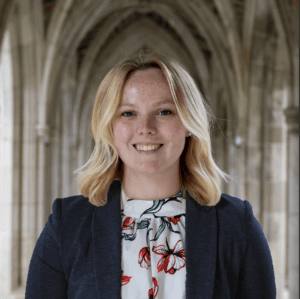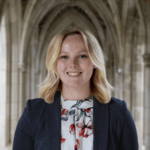 Maddie Sparrow
Essay Coaching
Supplemental Editing
Maddie Sparrow is an English major and Education minor from Duke University.  She is teaching English at Ravenscroft School in Raleigh, NC and taught previously at Jordan High School in Durham, NC. 
Maddie works with clients on both essays and Common Applications, and she serves as the liaison for Spanish-speaking clients.  For the summer class, Maddie shares tips from her own college process with the students and uses her expert editing skills to tighten students' essays and to strategize on the phrasing and order of the Common App Activities Section. Maddie primarily supports our summer classes and serves as one of the co-teachers.  Maddie works with a few students a year, you may email her at MaddieSparrow1@gmail.com to check her availability.
The College Coaches (6 yrs)
English Teacher, Ravenscroft School
English Teacher, Jordan High School, NC
B.A. English and Education, Duke University
Aidan Sparrow
Gen Z
Essay Coaching
Supplemental Editing
Aidan Sparrow is a Theatre Arts and Film major at the University of Miami.
Teaches summer courses guiding students on college application process and essay strategies.
Co-Editor for college essays.
The College Coaches (3 yrs)
B.A. Theatre Arts and Film, University of Miami (2024)