Click on any of our Head Coaches below to learn more about their experience, education, and availability.
Kathleen Glynn-Sparrow is the Founder and General Manager of The College Coaches. Previously, she was the Director of College Counseling at the McLean School in Potomac, MD.  Kathleen also worked at Stone Ridge in Bethesda, MD, both in college counseling and as the head of the English Department. She also served as Director of College Counseling at St. Andrew's Episcopal School in Potomac, MD.  She taught at The Ben Franklin Academy in Atlanta, GA, where she counseled students challenged with learning style differences, substance abuse recovery, and motivational issues.  Kathleen earned her B.A. from Duke University and her M.Ed. from Emory University.
Kathleen has spent over 25 years in school leadership positions and 22 years counseling families about the college process. Using her experience as a high school English teacher (and Department Chair), she enjoys helping students transform their essays from a wisp of an idea to a finished piece.
Having traveled extensively, both nationally and internationally, Kathleen advises students about colleges which she has personally visited– over 150 campuses in her career. She has established a professional rapport with a host of college representatives over the years and remains current by attending local college admission events. Additionally, she furthered her knowledge of college counseling at the Harvard Admissions Institute.
Two highlights of Kathleen's career include a publication for which she received a grant and a presentation at a national conference. She is the co-author of Sex, Drugs, and the S.A.T., Getting out of High School and Getting in to College (available on Amazon.com), and presented at the National Association of Independent Schools Conference on "Stressed-out Students are the New Normal: How Educators Can Alleviate Anxiety."  Kathleen accepted invitations to serve on two advisory boards: Quinnipiac University and Widener University. 
Kathleen also has firsthand knowledge of the local high schools. She has worked with most public and private high schools in the DC/MD/VA area. Her daughter, Maddie graduated from Stone Ridge and most recently graduated from Duke University (Class of 2021). Her son Aidan graduated from The McLean School of Potomac and is attending the University of Miami as a sophomore. Her husband George is a technology consultant and manages all internal functions for The College Coaches as our COO. Her dog Stella doesn't do much. 😉  Schedule a meeting with Kathleen.
Becky Bowlby spent 11 years in the Lower Merion School District, and her second year solely at Lower Merion, having spent the first 7 years servings as the College Access Counselor for both Lower Merion and Harriton High Schools.  Becky has thirty years of college admission experience which she brings with her to the counseling department.  She came from Immaculata University where she served as the Director of Admission for 6 years.  Prior to Immaculata, Becky was the Senior Associate Director of Admission at Drexel University, as well as Associate Director of Admission at Thomas Jefferson University, Assistant Director of Admission at Montgomery County Community College, and Student Affairs Coordinator at Methodist Hospital School of Nursing.  Her prior high school counseling experience was as the College Counselor at Cheltenham High School for four years.
Professional Organizations:  Becky has an extensive background in professional development having served in a variety of leadership roles in the Pennsylvania Association for College Admission Counseling (PACAC) including President, Conference Planning Chair 6 times, Treasurer, Chair of Admission Practices Committee, Chair of College Fairs Committee and a number of other roles including the Dean of the Summer Institute. Becky won the highest award given by PACAC, the Delwin K. Gustafson Award for Excellent Service to PACAC in 2002.  In addition, Becky presents annually at the PACAC Conference and served as the mentor for the Conference Planning Chairs in 2016, 2017 and 2018. Becky created and launched the first Women's Empowerment Workshop on Zoom in 2021 and the first in-person two- day workshop was held prior to the PACAC Annual Conference in 2022. At the 2022 conference, Becky was awarded Emeritus Membership status for her service to the organization.
In addition, Becky has been very active in the National Association for College Admission Counseling (NACAC) serving in a number of leadership roles there as well. Becky was the Co-Director of the Admission Middle Management Institute, Co-Director of the Leadership Development Institute, and member of the Finance and Budget Committee. Her largest leadership role in NACAC was as the Chair of the Local Arrangements Committee for the annual conference held in Pittsburgh a few years ago.  She frequently presents at the annual NACAC conference as well. At the 2021 conference, Becky was awarded the Rising Star Award from NACAC for her participation as a panelist in the PACAC lunchtimes series on Diversity, Equity and Inclusion.
Becky lives in Phoenixville, Pennsylvania and is the mother of two daughters, Lauren and Marissa, who live nearby, as well as the Mimi of Wyatt, age 11 and Blake,2.  You can reach her at Becky@TheCollegeCoaches.com. 
Mike Oligmueller has been advising students and families about college admissions and financial aid for almost 40 years as both a college admission officer and a high school college counselor. "Mr. O" is in his sixth year of serving as the Director of College Counseling at NSU University School in Fort Lauderdale, Florida, and he has an additional 19 years of combined experience as the head of college counseling at The Potomac School, Connelly School of the Holy Child, and Charlotte Latin School (NC).

Mike dedicated the first fifteen years of his career to the admission offices of Wabash College (IN), Lake Superior State University (MI), Purdue University (IN), Earlham College (IN), and the University of Southern Indiana, and he was the dean/director of admission at Earlham and USI. His responsibilities on college campuses have provided him with practiced insight about what admission officers are looking for on applications and in essays as well as ways for students to make positive impressions at college fairs, during college admission officer visits at high schools, and in interviews. Because he developed marketing plans, promotional materials, and recruitment strategies for college admission offices, Mike can astutely decode communications students receive from colleges, explain financial aid and scholarship offers, and give advice about the worthiness of athletic recruiting services, honorary societies, and summer programs and forums. His experience on college campuses includes assisting international students with admission and immigration procedures, coaching speech teams, and advising fraternities. He earned a Bachelor of Science Degree from the University of South Dakota and a Master of Arts Degree from Purdue University, and he is a member of Phi Beta Kappa.

He has been involved in professional associations throughout his career, serving as a committee chair, Secretary, Treasurer, and President of the Potomac and Chesapeake Association for College Admission Counseling (PCACAC); a member of the Naviance Advisory Board; and a Chief Delegate, Finance Committee Member, and 25-time-Conference-Attender for the National Association for College Admission Counseling. In 2018, PCACAC honored Mike with its highest honor, the Apperson Award in recognition of his "extraordinary service to students, to PCACAC, and to the college counseling profession."

Motivated by his long fascination with colleges, Mike has visited more than 400 colleges in the U.S., Canada, Europe, and Asia, and he starts each of his mornings by reading online newsletters and blogs about higher education. Through his long career, he has built a professional network of hundreds of college admission experts and continues to strengthen those ties through regular conference attendance and campus visits. His students appreciate his wit, honesty, and wisdom about college admissions. Mike enjoys all aspects of the college search process but especially relishes helping students build appropriate college lists, construct compelling applications, and discern the best college choice for them.

Kathleen and Mike have known each other for more than twenty years and have visited colleges together, provided each other with advice and counsel, and built a relationship based on mutual respect and humor.You can reach Mike at Mike@TheCollegeCoaches.com. 
Barbara earned her B.A. from the University of Virginia and her M.A. in English & American Literature from Georgetown University. As a graduate fellow in the university's writing center, an expository writing instructor, and later an English teacher at The Madeira School, she developed a passion for supporting students at every stage of the writing process.
As a college counselor, Barbara is known for her warm and forthright manner, strategic advice, attention to detail, and strong advocacy for her students. At Marks Education, she helped hundreds of students tell their stories in their college applications and interviews, while also leading the firm's transfer admission practice. During her tenure as the Director of College Counseling at Melvin J. Berman Hebrew Academy in Rockville, MD, she transitioned the school to digital submission of transcripts and recommendation letters, wrote the college counseling handbook, and served on the administrative team. At Potomac, Barbara was instrumental in developing new informational programs to help demystify the college admission process for students and parents. In addition, she was an academic advisor and a member of the Cultural Competence Leadership Team, and she worked with Potomac's admission office, interviewing prospective students.
Barbara keeps current with the ever-changing college admissions landscape and has a penchant for research and data. Active in several professional associations, she was twice chair of the Potomac & Chesapeake Association for College Admission Counseling's (PCACAC) Summer Institute and has presented at conferences and workshops on topics ranging from recommendation writing to athletic recruiting to secrets of highly selective admissions. Over the course of her career, she has forged strong relationships with colleagues on both the counseling and admissions sides of the desk. Barbara and Kathleen met through the Washington Area Independent Schools (WAIS) college counselor group and have attended local counselor events and campus visits together over the years.
A graduate of National Cathedral School, Barbara is raising her two daughters near a network of family in the McLean area. She and her husband met at the University of Virginia and are avid sports fans, particularly when it comes to cheering for the 'Hoos. In her free time, Barbara enjoys playing tennis and reading.  Schedule a meeting with Barbara.
Greg Schneider was recently the Department Chair of the English and Literature Department at The McLean School of Maryland and now works as a Head Coach for our College Essay service for The College Coaches. Greg has worked for many years with upper school students in the humanities. He is also an executive function coach and a writing tutor. Greg works extensively with students guiding them in crafting their college admissions essays and has written a blog titled "Writing the Perfect College Admissions Essay" for The McLean School website.
Some of Greg's favorite students' college admissions essays have been about ducks, hair, juvenile delinquency, party franks, and broken crockery. All were memorable, funny, and unique. And successful. Greg knows that crafting the perfect college admissions essay is about the process of distilling a student's ideas and presenting a cogent and compelling narrative about that student's abilities, accomplishments, ambitions, and aspirations. Greg enjoys shepherding students through the writing process and showing them that writing is the foundation of communication, a means of creative expression, and a powerful tool for success.
Greg has worked in education and the arts all of his life. He holds a BFA in Theatre Arts from the University of Montana, a MA in Art History from the University of Oregon, and a MS in Education from Nova Southeastern University.
Previously, Greg worked as an administrator and teacher for Cirque du Soleil as well as a director, actor, and stage manager in both professional and community theatre on the West Coast. He has written and published for art journals and newspapers on modern and contemporary art, film, theatre, and books, as well as interviewing and writing about internationally renowned artists, curators, and museum directors. Schedule a meeting with Greg.
Caroline Sanders Byers earned a B.A. from Bucknell University and an Ed.M. from Harvard University. An independent college advisor with over 15 years of experience in education, Caroline most recently worked with Kathleen remotely at The McLean School of MD as a college counselor and is our Head Coach for helping middle schoolers with essays for high school admission.  
At Mercersburg Academy, a boarding school in PA, Caroline served as an admission officer, college counselor, coach, advisor and dorm dean. In the college counseling office, she worked with seniors as well as created a comprehensive program for 9th through 11th grade students before they formally entered the college process. The program encouraged younger students to be more proactive in their decision-making about opportunities in high school.
In addition, Caroline served as the Director of College Counseling at Connelly School of the Holy Child in Potomac, MD, and she taught chemistry, earth science and conceptual physics at St. Andrew's Episcopal School in Potomac, MD. Kathleen and Caroline were colleagues at St. Andrew's and reconnected recently. 
Caroline lives in Carlisle, PA, with her husband, two boys and two rescue dogs. In her spare time, she likes to walk her dogs while listening to podcasts or create delicious desserts in the kitchen with her kids.  Schedule a meeting with Caroline.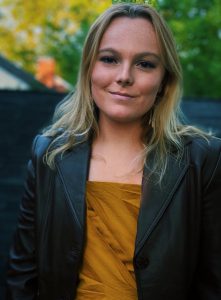 Maddie Sparrow is an English major and Education minor from Duke University, where she graduated in May 2021.  She is teaching English at Jordan High School in Durham, NC and will be teaching at Ravenscroft in Raleigh, NC next year.  In addition to serving as the President of an online Duke publication, she was involved with education-related research and tutored high schoolers throughout her years at Duke. Maddie works with clients on both essays and Common Applications, and she serves as the liaison for Spanish-speaking clients.  For the summer class, Maddie shares tips from her own college process with the students and uses her expert editing skills to tighten students' essays and to strategize on the phrasing and order of the Common App Activities Section. Maddie primarily supports our summer classes and serves as one of the co-teachers.  Maddie works with a few students a year, you may email her at MaddieSparrow1@gmail.com to check her availability.