Kathleen Glynn-Sparrow is the Founder and Head Coach for The College Coaches. Previously, she was the Director of College Counseling at the McLean School in Potomac, MD.  Kathleen also worked at Stone Ridge in Bethesda, MD, both in college counseling and as the head of the English Department. She also served as Director of College Counseling at St. Andrew's Episcopal School in Potomac, MD.  She taught at The Ben Franklin Academy in Atlanta, GA, where she counseled students challenged with learning style differences, substance abuse recovery, and motivational issues.  Kathleen earned her B.A. from Duke University and her M.Ed. from Emory University.
Kathleen has spent over 25 years in school leadership positions and 22 years counseling families about the college process. Using her experience as a high school English teacher (and Department Chair), she enjoys helping students transform their essays from a wisp of an idea to a finished piece.
Having traveled extensively, both nationally and internationally, Kathleen advises students about colleges which she has personally visited– over 150 campuses in her career. She has established a professional rapport with a host of college representatives over the years and remains current by attending local college admission events. Additionally, she furthered her knowledge of college counseling at the Harvard Admissions Institute.
Two highlights of Kathleen's career include a publication for which she received a grant and a presentation at a national conference. She is the co-author of Sex, Drugs, and the S.A.T., Getting out of High School and Getting in to College (available on Amazon.com), and presented at the National Association of Independent Schools Conference on "Stressed-out Students are the New Normal: How Educators Can Alleviate Anxiety."
Kathleen also has firsthand knowledge of the local high schools. She has worked with most public and private high schools in the DC/MD/VA area. Her daughter, Maddie graduated from Stone Ridge and most recently graduated from Duke University (Class of 2021). Her son Aidan graduated from The McLean School of Potomac and is attending the University of Miami as a sophomore. Her husband George is a technology consultant and manages most of The College Coaches as our COO. Her dog Stella doesn't do much. 😉  Schedule a meeting with Kathleen on Calendly.
Caroline Sanders Byers earned a B.A. from Bucknell University and an Ed.M. from Harvard University. An independent college advisor with over 15 years of experience in education, Caroline most recently worked with Kathleen remotely at The McLean School of MD as a college counselor.
At Mercersburg Academy, a boarding school in PA, Caroline served as an admission officer, college counselor, coach, advisor and dorm dean. In the college counseling office, she worked with seniors as well as created a comprehensive program for 9th through 11th grade students before they formally entered the college process. The program encouraged younger students to be more proactive in their decision-making about opportunities in high school.
In addition, Caroline served as the Director of College Counseling at Connelly School of the Holy Child in Potomac, MD, and she taught chemistry, earth science and conceptual physics at St. Andrew's Episcopal School in Potomac, MD. Kathleen and Caroline were colleagues at St. Andrew's and reconnected recently. 
Caroline lives in Carlisle, PA, with her husband, two boys and two rescue dogs. In her spare time, she likes to walk her dogs while listening to podcasts or create delicious desserts in the kitchen with her kids. Schedule a meeting with Caroline on Calendly.
Greg Schneider is the Department Chair of the English and Literature Department at The McLean School of Maryland and works part-time as a College Essay Coach for The College Coaches.  Greg has worked for many years with upper school students in the humanities. He is also an executive function coach and a writing tutor. Greg works extensively with students guiding them in crafting their college admissions essays and has written a blog titled "Writing the Perfect College Admissions Essay" for The McLean School website. 
Some of Greg's favorite students' college admissions essays have been about ducks, hair, juvenile delinquency, party franks, and broken crockery. All were memorable, funny, and unique. And successful. Greg knows that crafting the perfect college admissions essay is about the process of distilling a student's ideas and presenting a cogent and compelling narrative about that student's abilities, accomplishments, ambitions, and aspirations. Greg enjoys shepherding students through the writing process and showing them that writing is the foundation of communication, a means of creative expression, and a powerful tool for success. 
Greg has worked in education and the arts all of his life. He holds a BFA in Theatre Arts from the University of Montana, a MA in Art History from the University of Oregon, and a MS in Education from Nova Southeastern University. 
Previously, Greg worked as an administrator and teacher for Cirque du Soleil as well as a director, actor, and stage manager in both professional and community theatre on the West Coast. He has written and published for art journals and newspapers on modern and contemporary art, film, theatre, and books, as well as interviewing and writing about internationally renowned artists, curators, and museum directors.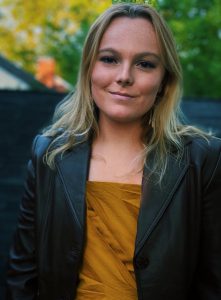 Maddie Sparrow is an English major and Education minor from Duke University, where she graduated in May 2021, with a license to teach high school English. In addition to serving as the President of an online Duke publication, she was involved with education-related research and tutored high schoolers throughout her years at Duke. Maddie works with clients on both essays and Common Applications, and she serves as the liaison for Spanish-speaking clients.  For the summer class, Maddie shares tips from her own college process with the students and uses her expert editing skills to tighten students' essays and to strategize on the phrasing and order of the Common App Activities Section. This is her 5th year co-teaching the class.